Diverse Career Opportunities for Nurses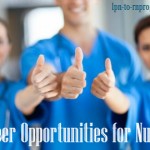 Nursing profession offers various opportunities for career advancement which is not limited inside a hospital institution. Nursing offers a wide range of options from being a staff nurse in the ward or in a different setting such as in airlines, in cruise ships and in some universities. Whatever career path a nurse chooses to take still depends on his interest and capabilities.
In connection to this, diverse career opportunities are classified into different categories including clinical, advanced practice and community. Clinical setting involves hospital, outpatient facilities and home care systems as the nurses' workplace while community setting involves areas outside the hospital such as war zones, health center and companies. On the other hand, advanced practice in nursing requires specialization in a certain field such as oncology, pediatric, psychiatric and surgery. In each of these fields, nurses take an active role in decision-making given the fact that they have acquired a wide background through education and experience.
As nurses take a different career path, they are required to meet certain professional qualifications to meet the standards set by their employer. Basically, they are required to obtain a degree in Associate of Science in Nursing (ASN) or Bachelor of Science in Nursing (BSN) and to pass the National Council Licensure Examination (NCLEX-RN). However, some fields require nurses to have a continuing education and to pass certain examinations.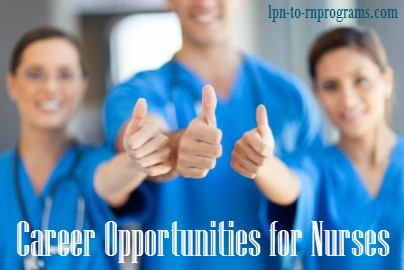 Nurse Anesthetist
Nurse anesthetist is the highest paid specialization in nursing. It is considered as the most in-demand. In fact, it was predicted that by 2008 to 2018, 22% increase in job opportunities for this specialization will be generated.
Professional Qualifications:
Before nurses become nurse anesthetist, in addition to the basic qualifications required to become registered nurses, they are also required to obtain the following:
a master's degree (Master of Science in Nursing or MSN)
at least one year experience in an acute care (ICU or ER)
to pass the National Certification Exam (NCE)
What do Nurse Anesthetist do?
As part of their job, nurse anesthetists are expected to provide care during intra-operative and post-operative phases of the surgical procedure. They are responsible in managing pain throughout the operation by collaborating with the anesthesiologists, surgeons, podiatrists and other healthcare professionals. With this responsibility, they are well compensated as they earn a salary ranging from $98,000 to $129,000 annually as they are given much respect and autonomy.
Clinical Nurse Specialist
Aside from this, clinical nurse specialist is also considered as an advanced practice which is also given autonomy in addressing the patient's concerns.

Professional Qualifications:
In addition to the basic requirements, the professional qualifications for a nurse to acquire this specialization are:
MSN degree
Certified Nurse Specialist (CNS) certification exam CNSs are considered expert in their chosen field especially in the diagnosis and treatment.
CNS in the Future
Same with nurse anesthetist, more job opportunities are open to this specialization. In fact, 19% more jobs will be available in the years 2008 to 2018. They are also compensated with a profit ranging from $62 000 to $79 000. Lastly, CNSs are also in-demand because they have gained adequate knowledge to provide specialized nursing care.
Pyschiatric Nurse
Another common specialization that falls under advanced practice is psychiatric nursing. They are also referred to as the Mental Health Nurse Practitioner and Psychiatric Nurse Practitioners.
Professional Qualifications:
To become a psychiatric nurse, other professional qualifications should be met including:
Master of Science in Nursing focusing on Psychiatry (MSN)
Board certification in psychiatric nursing (PMHNP-BC) issued by the American Nurses Credentialing Center (ANCC) which is required to be renewed every five (5) years to ensure that psychiatric nurses are updated with the current trends in psychiatry.
What do Psychiatric Nurses do?
As they begin to work, they are not only required to do the regular routines such as assessment and medication administration. Psychiatric nurses also act as a therapist and counselor to help depressed and mentally ill clients improve their condition. They may be required to act as a parent surrogate as they provide the needs of their patients in the event that their ability to perform activities of daily living is compromised due to their mental illness. Most importantly, patients are not only the focus of care. The patient's family is also given counseling regarding the proper and adequate management of the patient's condition and the proper way of dealing with his behavior. Through this, it will be ensured that upon discharge, the environment where the patient stays is still conducive for recovery.
Other Career Opportunities for Nurses
The above mentioned specializations fall under the clinical and advanced practice. However, outside the hospital, more opportunities await. RNs can also be a flight nurse if they prefer to travel or a nurse educator and researcher if they aim to impart their knowledge to other people.
Flight nurses are those who care for people in remote areas or those who are on their way to the hospital. They are required to have adequate knowledge about different medical conditions. Through this, they can quickly make decisions in emergency situations. They can work with medical disaster teams, airlines or individual patients who need to travel.
On the other hand, nurse educators are also one of the preferences of RNs because they have the option to work as a lecturer or a clinical instructor. As a nurse educator, nurses are able to assist student nurses in identifying their learning needs. Nurse educators earn an average of $57,000 – $78,000 annually.
With all of the available job opportunities, nurses need to know their interest before they make a decision on which career path to take. They should be certain about it and pour their heart on their chosen field. Through this, caring will be an easy task for them no matter how demanding it may seem.