Nursing Professional Skills: Expanding Your Knowledge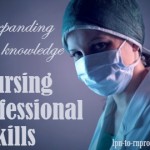 Nurses have gone through different struggles before they become professionals. They are required to take up Bachelor of Science in Nursing (BSN) for four to five years depending on the curriculum offered by the university they prefer. As a student, they have to come early if they are on duty and are expected to respond to the needs of their patients just like what staff nurses do.
In addition to this, they are also required to do the documentation, submit paperworks and do case presentations as part of their related learning experience (RLE). Their RLE or their training in the hospital also comes with their responsibility as a student which oblige them to meet the demands of the academe. After they graduate with a BSN degree, they are now required to take the licensure examinations in order for them to become registered nurses (RNs).
Despite all of these, there are still several things which are not taught in school. These may be some other technical aspects of nursing or even some attitudes and interpersonal skills that will help them interact with other people especially with their patients. Learning these will help them gain confidence, establish trust and develop competency. These may also help them ensure efficiency of care. Hence, conserving time and energy without compromising the quality of care.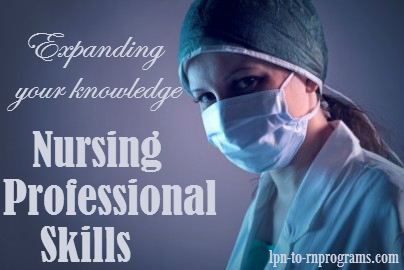 Nursing Professional Skills
The technical aspects of the nursing profession that RNs need to learn:
Before you start your day in the ward, you have to know your role as a member of the health team. With this, you have to work together with the team about how you are going to address the concerns of your patients. You have to collaborate with your co-staff nurses for the endorsement and with the physicians for their orders including medications and laboratory requests.
As you do what was mentioned above, never hesitate to ask questions especially if you want to clarify any of the physician's orders because nurses are not merely expected to follow. We should take an active role and become a patient advocate. Nevertheless, you may also need to talk to the patient or his significant others as part of the health assessment. This will help you obtain baseline data necessary to determine whether the patient's condition is improving or deteriorating.
As you begin doing your tasks, you should also familiarize yourself with the unit – from the nurse's station up to the patient's room. Through this, you will be able to maximize the resources available in your workplace. You may also look for hazards that may pose a serious threat to your patient's health and safety.
It is also helpful to organize your work in order to save time and effort for you to be able to spend more time with your patients. Most importantly, as a competent nurse, you have to know what or whom to prioritize depending on the patient's needs. For example, you may need to first see your patient who has difficulty of breathing before going to your patient who is complaining of mild abdominal pain.
As you provide care to your patients, you also need to protect yourself from any hazards brought by this profession. A good example of this is during patient transfer or positioning. If there is any available help, never hesitate to ask other members of the team or even the patient's significant others to help you reposition your client. Too much strain on your back as you turn your patient may possibly cause injury.
During medication administration, always double check the doctor's order, patient identification and drug label, dosage and expiry date before giving it to the patient. If you are uncertain about a certain medication, discard it. Never put your patient's life to risk.
In the event that you committed an error during drug administration, never keep it to yourself. Further assessment shall be done so as to prevent serious harm to your client. Lastly, nurses should also document everything including the nursing interventions they provided throughout the shift.
Nursing Interpersonal Skills
Above all, nurses also need to know the positive attitudes and interpersonal skills that will help them with their career.
First is patience. Patience is one of the keys to your patient's heart. You have to attend to the needs of your patients whatever their reaction is. They may not treat you well or they may not even express their gratitude as you respond to their needs. However, in the long run, they will also learn to appreciate every little thing you do for them.
Nurses also need to learn how to act professionally. Everything that nurses have at home should be left there once they step out of their homes. They should never bring it with them as they go to work because this will definitely affect the efficiency of their care.
Last but never the least, nurses should believe in themselves and be proud of their profession. They should believe that they can do everything if they will just think of their patient's welfare as their major goal. Most importantly, they should also carry the nursing profession with pride and dignity.