Common Workplace Violence to Deal With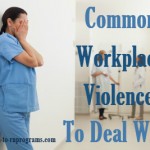 Environmental factors present in our workplace influence the way we deliver nursing care. It may seem that environmental modification is not our top priority. However, neglecting this aspect of nursing will surely bring a significant impact not just on our patient's health but also to the efficiency of our work.
You may be wondering about what environmental factors I am referring to in this article. I'm sure you have encountered this. Maybe, you just ignored it and did not do anything to deal with it. Perhaps, you have already experienced what we call 'workplace violence'.
Workplace violence occurring in an institution is classified into two subcategories: co-worker and patient and family member violence. Whoever the perpetrator is, we should be assertive in dealing with the situation. We should not just stand in one corner and listen to them. We should learn to defend ourselves especially if we know that we are right.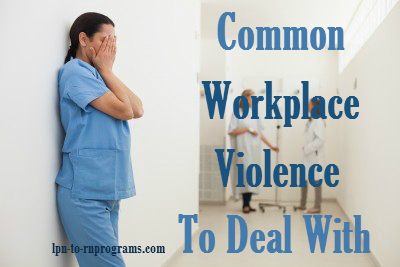 1. Co-worker violence.
The term co-worker here refers not just to our co-staff nurses but also to the attending physicians and nurse aides. The most common co-worker violence you have encountered is with the physicians. Sometimes, they do not want nurses to clarify or question their orders. Some physicians think that they know very well what they are doing and doing such means that you are doubting their capabilities.
On the other hand, another type of co-worker violence is co-staff nurses violence. This is most common among neophytes in the nursing profession. They may experience being bullied by their senior nurses. Some would give you heavy workload despite the fact that you just started working as a nurse. Maybe, your senior nurses just want to challenge you so you can be the best nurse that you can be.
The last type of co-worker violence happens between you and your nursing assistants. Though, it rarely happens, you still need to be prepared. Some of them refuse to help with patient transfer and even pretend that they are busy.
Before something happens to us, it is necessary for us to protect ourselves. We should observe different preventive measures to ensure safety. Here are some tips to prevent the above mentioned workplace violence:
How can you prevent co-worker violence?
Know your role as a member of the health team. This will help you know the things you should do and you should not. Hence, you will know your boundaries.
Know your patient very well. Through this, you will know what appropriate nursing interventions you have to render. Doing such will help you gain respect from your colleagues. Show them that you know what you are doing and you will never do anything that will harm your patients.
Establish rapport with your co-workers. If you are a neophyte, let your colleagues know that you are approachable and willing to help. Remember that first impression lasts. A harmonious relationship brings positive effect to the over-all outcome of nursing care.
2. Patient and Family Member Violence
Patient and family member violence are still the most difficult situations to deal with. It would really test your patience. If you were not able to overcome them, your self-esteem and ability to establish interpersonal relationships may possibly be affected. Part of the patient and family member violence is sexual harassment. This commonly happens among female staff nurses. Though, less incidence occurs among male staff nurses.
How can you prevent patient and family member violence?
Maintain a professional interpersonal relationship with your patient and their significant others. Be careful as you use therapeutic touch. Also, it is important to inform the patient before giving any nursing intervention. Some patients may misunderstand what you are doing.
Show them that you know what you are doing. Doing such will help your patients trust you. Otherwise, they may possibly doubt your competency and ability to care for them. Though you feel nervous, especially if you are a beginner, never show it to them. An effective solution to overcome this feeling is to BREATHE in and then, BREATHE out before approaching your patient.
Know your patient's health history very well. This will provide baseline data as you provide nursing care. This will surely help you answer their questions accurately without assuming anything. If you are in doubt, do not just say anything that does not have a basis.
Most importantly, never ignore the buzzing of call lights!
With this dilemma, what could it possibly bring to the nursing profession? Perhaps, male nurses will be preferred over female nurses because of their strength and power. They do not need any help from the nurse aides and in case of patient and family member violence, they can easily defend themselves. However, situations like these do not always require physical strength. Oftentimes, good communication skills do work best. When talking to aggressive clients and family members, we need to remain calm and show them that we are in control of the situation. We should never allow them to manipulate us.