Common Health Hazards of Nursing Profession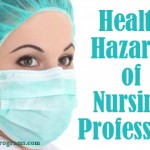 Nursing is a profession which caters to the health needs of people, sick or well. Nurses provide health education to people who do not have an illness or to those who are at risk as a means of prevention. Moreover, nurses are beside their sick patients to respond to their needs and to provide care. With this, their top priority is their patient's welfare to ensure that they receive the most efficient health care services at a minimum cost.
However, as a member of the health team, we also need to protect ourselves from the hazards that may possibly affect our health. For example, without observing the proper body mechanics, we might injure ourselves as we turn or transfer our patients or as we assist them during ambulation. You may ask somebody even the patient's relatives to assist you in turning or lifting the patient.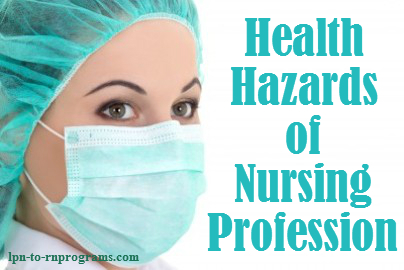 Remember that changing the patient's position every two hours is a significant part of nursing care and we are required to do this to prevent bed sores. Thus, maintaining our patient's skin integrity. Another health hazard posed by our profession is the possibility of acquiring diseases. Hence, we must wear protective gear such as mask, gloves and gown. Protecting ourselves is also considered as a means of protecting our patients.
The following is a list of the most common health hazards experienced by nurses:
Exposure to communicable diseases. Nurses usually deal with sick people who have different types of illnesses. Some may have diseases that can be transmitted through the air or through their secretions. One of the most common communicable diseases that we may encounter is tuberculosis. If we do not observe safety precautions, we may not be the only one to contract this disease. Rather, we may spread the disease to other patients whom we handle during the shift.
Exposure to hazardous chemicals. One of our duties is to prepare medications and other substances as we provide nursing care. For example, we are exposed to anesthetic gases which we may possibly inhale and we handle disinfecting and sterilizing chemicals which we may possibly ingest. With this, proper handling and adequate protection should be observed.
Injury from aggressive clients. Nursing is a profession that deals with different types of individuals. Some patients tend to be aggressive due to psychiatric disorders. If not properly restrained during those times that they cannot control themselves, these patients may possibly injure us as we provide care.
Back injury. Part of nursing care is to turn our patients on a regular schedule. This routine is done to maintain our patients' skin integrity and prevent the formation of decubitus ulcer or pressure sores. As we do this, we are prone to back injury and twisting of the spine if we fail to observe proper body mechanics.
Needlestick injury. Some of the medications we prepare are administered intramuscularly or intravenously. Through this method, we use syringes and needles. After we use these syringes, we sometimes recap before we dispose. As we do this, we are prone to needle prick which may result to blood-borne diseases such as HIV-AIDS.
Accidents. Buzzing of call lights is really stimulating and during emergency situations we really need to hurry and are expected to work fast. As we encounter this situation, we sometimes fail to recognize the things around us which may lead to accidents.
Latex allergies. As a means of protecting ourselves and our patients, we wear gloves as we provide care. We use sterile gloves as we assist in surgical procedures. We use clean gloves as we suction our patient's secretions and as we collect specimen. However, though it is considered as a means of protections, it may also cause a reaction to your skin if you have allergies.
Stress from work. As we meet the demands of our work, we may feel burned-out. During our shift, especially when we are asked to extend our duty hours, we lack rest and sleep which hinder our body from recuperating. Sometimes, due to over fatigue, our immunity may also decline. Hence, we become prone to acquire diseases.
With all of the situations mentioned above, nurses are really predisposed to different hazards which may affect their well-being. Aside from the physical harm brought by our job, we are also exposed to emotional stress as we see our patients suffer from their illness. With this, we should protect ourselves by strengthening our mind and body. Through this, our body's defenses will be able to fight diseases. Most importantly, we should be psychologically prepared before we start our day in order to protect ourselves from all the emotional stresses of our work.